Here a sample scan of me :-) I visited Twinkind in Berlin a while back and had myself scanned by them using their 100 DSLR setup. It took 3 Months! to receive my print and here you can see it on the left.
Of course I had to make a similar scan of myself using my own Raspberry PI scanner with 120 cameras and using projection. Pictued on the right.
If you consider the difference in investment (150K+ compared to 10K) you can see very little difference in detail between the models (printed at 1:10 scale). The colors of twinkind are a little bit better, but the PI scan which almost had no retouching done to it, is a much more accurate fit. Twinkind clearly likes to "enhance" things like eyes (adding very clear/spooky dots), I also feel they changed my "smile" as I really do not smile like that.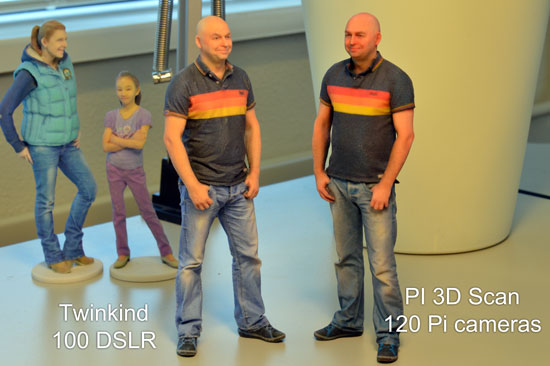 You can download the orginal photos of this scan made with the PI 3D Scanner. It consists of 3 sets:
1. Photo set with projection
2. Photo set without projection
3. Photo set of empty scanner for auto masking
You can also download the Raw model made with Reality Capture and the 3D file I used to print the model with.
DOWNLOADS:
Original Photos
3D model raw processed with Capture Reality
3D model with minimum cleanup ready to 3D print